| | |
| --- | --- |
| Posted on March 10, 2013 at 1:40 PM | |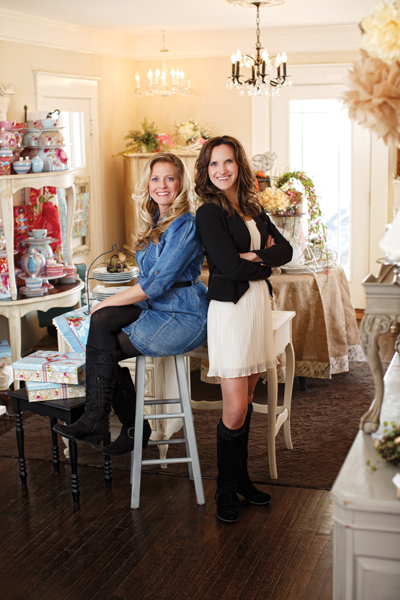 WORDS: JESSICA MARSHALL
An avid bargain and estate sale shopper, Shannon Myers often wondered how she could find a way to shop for a living. After a little brainstorming with her friend Erica Rigdon, who has a sharp eye for design
Shannon Myers & Erica Rigdon
and home décor, the idea for Charm was born.
The antique and gift shop, located at 612 E. 135th St. in Martin City, opened last fall. The store — which is open on the third Thursday, Friday and Saturday of every month — specializes in finding original and affordable treasures to "add a little charm" to your home.
"We started out at Lone Elm Antique Mall. Then we moved to Bella Patina in the West Bottoms," says Myers. "After our six-month stint there, we saw an opportunity to open a location out south, and even though we were sad to leave our Bella family, we made the giant leap and opened our own location."
Myers and Rigdon, both Overland Park residents, brought a quaint 1900s farmhouse in Martin City to life after three months of renovations.
"We were looking for something with character and a small-town feel to complement the style of the store," Myers says. "We approached the owner of Sharper Edge, Scott Rutledge, about the vacant little white farmhouse next door to his business, and he willingly showed us what would become our new home."
Myers explains that the name is a defining acronym: C, classic or vintage; H, home décor; A, affordable pricing; R, repurposed; and M, modified or constantly changing.
And the shop does have a distinct "charm" — a bright turquoise door, refinished hardwood floors, small chandeliers, a vintage candy cart with homemade treats for sale — but it's mostly about the treasures within. Charm carries merchandise from nine vendors and a variety of consigners throughout the shop. Vendors are selected based on style, pricing and cohesiveness.
"We combine 'old' and 'new' vintage style to create an amazing selection for our customers," says Myers. "This includes repurposed furniture, home décor, jewelry and accessories, bath and body products, gifts and art. Currently, we carry Lollia, Savannah Bee Co., Pickwick Candles, Bethany Lowe, Catherine Popesco Jewelry and Scout Bags, to name a few. Our store also carries handmade items and local vendors and artists, in addition to nationwide and European vendors."
For the three weeks per month that Charm is closed, Myers and Rigdon shop, design and set up for the next sale.
"The idea is to have a very different look every month and keep the customers excited to see new things at every sale," Myers says. "For 2013, we are introducing several new lines. We were fortunate to pick up a line that will be featured on Oprah's Favorite Things list for 2013 and it is amazing!"
Later this spring, they will open an outdoor market for vendors as well, exposing customers to the welcoming Martin City community.
"We have had incredible support and look forward to the developments being made to bring other businesses to Martin City," Myers says. "Charm has taken on a life of its own from the beginning, and we can't wait to see where it takes us next."
photos: Paul Versluis
This article appears in the March 2013 issue of 435 South Magazine
Did you like what you read here? Subscribe to 435 South Magazine »
Categories: None