| | |
| --- | --- |
| Posted on March 25, 2013 at 3:25 PM | |
by Sylvia Forbes
photos by Ron Johnson
Discover Mid-America January 2009
Read article on line at http://discoverypub.com/feature/2009_01.html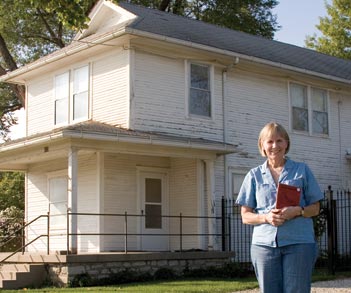 What is it about an antique store that is so enticing? For many, it's the joy of discovering an unexpected treasure hidden in a forgotten corner, an item that has special meaning. For the ultimate unforgettable experience, it's not only finding that treasure but also finding it at a bargain price.
The ultimate antiquing experience came to Katie Hopkins from out of the blue. Hopkins, from Olathe, KS, found a treasure more meaningful than she ever could have imagined. It happened on a sunny day last spring.
Katie Hopkins outside her mother's old house in what was once Martin City, MO.
"I had been digging bulbs all morning," said Katie. "My mother had died six years ago. Her home in Martin City (now part of south Kansas City, MO), where she had lived most of her life, was a 100-year-old house, which has withstood not only the test of time, but two tornados as well. My mother loved flowers and surrounded this house with a large yard bursting with blooms of all kinds.
"My mother was famous for her flowers. She was always sharing her plants and bulbs, hoping to find them good homes where they would grow and flourish, and brighten more people's lives. As she gave them, she'd always remind people not to thank her for the plants, or they wouldn't grow.
"After she died, her house sold to a landscaper, Scott Rutledge, who turned part of the property into a landscape business called The Sharper Edge. I appreciated that Scott had gotten the home, because he enjoys flowers as much as my mother did. He erected a pretty iron fence, and added beautiful hanging planters of cheery, colorful petunias along the fence. Scott had been so gracious about letting me come back each year and dig my mother's flowers. I had come back for my final digging binge, to dig up more of the thousands of bulbs, including daffodils, surprise lilies, crocus, grape hyacinth and others, that kept blooming and multiplying each year. I wanted to pass these remaining bulbs on to family and friends.
"I thought I would never finish digging all the bulbs. I must have dug 4-5 thousand that day. My cousin helped by separating the bulbs from the clumps, and loading them into the small trailer that I had hitched behind my car so that I could haul them. We finally finished, tired and dirty, the trailer piled to the very top. We closed up the trailer and left with our bounty.
"The next morning, a family friend, Margie, and I had planned an adventure to a couple of nearby antique stores. After breakfast, we headed to a special antique open house at Millett & Co., an antique shop in Greenwood, MO. Sandee Millett is a common friend of both of us. Sandee owns both Millett's and Greenwood Mercantile, another antique shop, both located in Greenwood. Afterward, we had a little time remaining in the afternoon, and decided to visit one more antique shop before heading home. We headed to Mom's Old Stuff, on Holmes Road (now called State Route D), in Belton, MO.
"As we looked through the shop, Margie struck up a conversation with Mary (Gates), the owner. It turned out they both had grown up in this same area called Hickman Mills, but a generation apart.
"While browsing, a small, old book caught my eye, A Child's Garden of Verses, by Robert Louis Stevenson. Since I had just spent the whole previous day in my mother's garden, digging up thousands of bulbs, it seemed quite appropriate, and I picked it up. The book had beautiful color illustrations and had a copyright of 1929. I checked the inside cover, which I always do, to see if the owner's name is written in the book.
"To my surprise, I discovered a label from the Hickman Mills Christian Church, a church that my mother and relatives had been attending for generations. In fact, some of my ancestors helped found this church. The label indicated that this book had been donated to the church. A little farther down, I discovered that the book had been donated by my mother!
A Child's Book of Versus, published in 1929 and found by Katie Hopkins, was donated to a church by her mother.
"It wasn't just that I had found a book of my mother's — it was that I had found it the day after digging her bulbs. I felt as if my mom was sending me a special gift for saving her beloved bulbs and flowers, and for continuing to share the flowers, something that she had been known for. I was almost speechless. If I needed any more convincing that this was a message from my mother, the name of the store where I found the book was Mom's Ole Stuff. Needless to say, I purchased the book, and it is now one of my most prized possessions.
"The very next day, I attended the visitation for a recently deceased family member. I pulled my trailer, still attached and packed with bulbs, into the church parking lot, near the front entrance. I opened it, so that the bulbs could be shared by all my mother's friends and relatives. Almost everyone took a few home. However, there were still hundreds of bulbs left.
"A month later, I drove to the Hickman Mills Christian Church, and spent a day planting most of the remaining bulbs in several gardens around the church with the help of one of my mother's friends. Still, there were bulbs left. I have continued to share the bulbs with friends and relatives, and now have just a few of the bulbs from her garden left to give away. The great thing about the bulbs, though, is that they multiply each year. So all those people that received my mother's blessing of bulbs, will be able to dig up their extra bulbs and share them with their loved ones, too. My mother has started a tradition of continually passing on both beauty and love, things we can never have too much of."
Things have come full circle. As a new chapter of the story, Scott Rutledge, the landscape business owner, is now planning to eventually open an antique store in Katie's mother's house. Perhaps he'll offer a few bulbs in the springtime, too.
"Stories like Katie's are what make antiquing so much fun," says Mary Gates, owner (with husband Jay) of Mom's Ole Stuff, where Katie's great find occurred. "Part of the enjoyment of antiquing is that frequently people find something similar to what they owned in childhood, that they associate with fond memories. They're happy to buy something that reminds then of happy times." In fact, that's how Mom's Ole Stuff got its name. "Everyone that came in told me 'it looks like my mom's old stuff.' I guess that's because I often buy things that remind me of my mother."
Mary has been in the antique business 21 years, but only one year at this location. She specializes in country primitives, vintage toys and kitchen items, furniture, and outdoor garden décor, though she also offers a variety of collectibles and useful items. As an example of the variety in her shop, some of the items she currently has for sale include a Howdy Doody doll, an antique metal bird cage, a Victorian wire flower stand, a couple of kitchen pie safes and an assortment of stoneware pitchers and bowls.
"I try to have something for everyone. One of the reasons people shop here is because we have reasonable pricing. I also try to carry lots of little things, so everyone can afford to take something home."
"Stories like Katie's are what make antiquing so much fun," says Mary Gates, owner (with husband Jay) of Mom's Ole Stuff, where Katie's great find occured.
Mom's Ole Stuff is easy to spot, because it is in a two-story building that looks like a barn, though it's beige, with white trim, rather than red.
At Millett & Co., Sandee Millett sells both old and new items. Her specialty is traditional country furniture and accessories. Some of the types of items available are ironstone pottery, stoneware crocks, silver serving pieces, and walnut and pine furniture, including children's furniture. She also offers vintage children's clothing. The store has no metal shelves, or rows of items. The inside is arranged like walking into someone's home. "I always try to give customers an idea of what they can do with the piece when they get it home. It's all about the look," says Sandee.
One unique offering at Millett's is their children's room, called Princess Brookies' room, after her 6-year-old great niece. The room includes both vintage and new children's things, including lots of gift ideas for children.
Sandee is a friend of Katie's, and Katie has been shopping at Millett's for years. Sandee even has a few of Kate's mother's flowers planted in her yard. Katie's mom drove the school bus that took them both to school in earlier years.
"Customers are always looking for that special something, just like Katie found," says Sandee. "We have had people coming in looking for glass milk bottles from the dairy that their family once owned. You never know what item will be special to which person."
Sandee's Greenwood Mercantile store specializes in primitives. At this location she rents out booths to dealers. This store was actually the original general store in Greenwood for dozens of years, but didn't become an antique shop until the 1980s. Sometimes she gets visitors who are members of families who previously owned the general store.
Katie has been an avid antiquer for much of her life. So it seems fitting that she found a great family heirloom at one of them.
"Part of the allure of antiquing is the history, finding out about the items and how they were used, and wondering about who might have owned them and used them. Each item has its own individual story," she says
Katie may have found her special item, but there are many more antique shops are full of all kinds of treasures, just waiting to be found by the right person. Is that you?
Sylvia Forbes is a freelance writer based in Fayette, MO. She can be contacted at herbs@mcmsys.com.
Antique Shops in this Article
Greenwood Mercantile
409 West Main
Greenwood, MO
Hours: 10-5 Mon-Sat; 12-5 Sun
Millett & Co.
808 West Main
Greenwood, MO
Hours: 10-5 Mon-Sat; 12-5 Sun
Mom's Ole Stuff
17816 State Route D (also called Holmes Road)
Belton, MO
Hours: 12 – 5:30 Mon, Wed, Fri and most Saturdays
Categories: None