| | |
| --- | --- |
| Posted on February 7, 2019 at 1:55 PM | |
House in the Heart of Martin City Holds a Treasure Trove of Memories
By Diane Euston
Martin City Telegraph
September 12, 2017 
Click here to view the original article: https://martincitytelegraph.com/2017/09/12/martin-city-boutique-has-114-years-of-memories/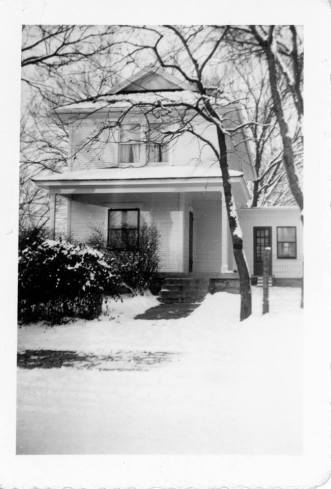 House in the Heart of Martin City Holds a Treasure Trove of Memories
By Diane Euston
Steps away from the railroad tracks on what was once Kansas Street in Martin City is a quaint two-story white home with a large porch and jet-black shutters. This home-turned-boutique (Gilded Lily) has over a century of history that matches the excitement of the early beginnings of the town.
At 612 E. 135th St. sits one of the original lots owned by E.L. Martin, founder of the town of Tilden. By the late 1880s, the town was rebranded as Martin City and land was up for the taking. Businessmen looking for cheaper land and less competition in Kansas City chose to take a gamble in the town.
In 1903, Frank "Joe" Jecker (1878-1959), an ambitious 25-year-old blacksmith from Kansas City, uprooted his wife, Jessie, and two young daughters, Bertha and Katie, and settled in Martin City. He built a blacksmith shop on the land. In an early 1900s booming railroad town, his services would have been in high demand.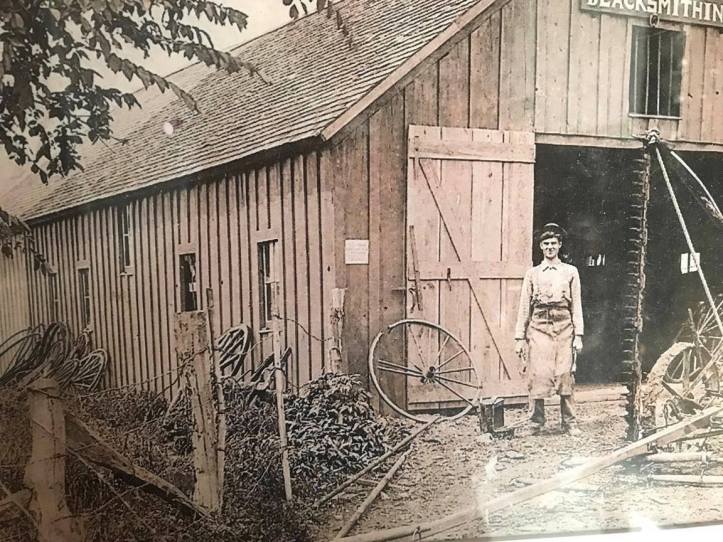 The first occupant was Joe Jecker, who built his blacksmith barn next to the house. Photo courtesy Joe Jecker descendents.
Jecker constructed a small one-story house for his growing family. In 1906, they welcomed another little girl, Josephine.
Jecker loved his daughters, but he craved the addition of a son. Betty Stone, a great-granddaughter, recalled the story that had been told to her by her grandmother, Bertha. "Joe told Jessie, 'If you have a boy, then I'll build a second story onto the house.'"
Fate took over and Joe got his wish. In July 1910, the Jeckers welcomed a son named Walter. Thus, Martin City's blacksmith built a second story which included two bedrooms and one bathroom. The black-haired blacksmith raised his family of six inside the house, conducting business next door. His great-granddaughter recalled, "My great grandpa yodeled all the time!" One can only imagine him working away in his shop, singing as he crafted items for the town.
Joe and Jesse Jecker in their later years, on their 50th wedding anniversary. Photo courtesy Jecker descendents
Jecker left Martin City for Kansas City in 1919. An allergy to goldenrod forced him and his family in later years to move to California. He sold his house and land that extended to the railroad tracks for $3,000 to George F. Jennings (1882-1954), a wallpaper hanger and decorator. Jennings, his wife, Letitia, and nine year-old son, Dale, packed their bags and moved into the house.
Ronnie Knoche, a lifetime resident of Martin City, recollected Jennings and his contribution to the town. "I remember my parents talking about all the wallpapering he had done," Knoche recalled. "George Jennings was the one who wallpapered every house in Martin City, including my folks' house, my grandparents, the banker, preachers. Every house, ceilings and all."
"His wallpaper is still in those Martin City houses under all the paint," Knoche surmised.
During Jennings' 26-year ownership, the sun porch on the east side of the house was added, hiding an old hand-dug well underneath its floor. They lived off-and-on between Kansas City and Martin City as George continued to bank on the trend of wallpaper.
White house Martin City (1).gjpuse in 1946. Courtesy Roy Hopkins.
In 1945, Jennings sold the house to Ralph and Evelyn Hopkins for $7,000. Both were 30 years old with a young, growing family. They stayed until 1947 and then rented out the house while they lived in the Hickman Mills area.
In 1950, tragedy struck when Ralph, only 35 years old, passed away from a stroke, leaving Evelyn (b.1915) to raise two girls and two boys. She took on the task with gusto, taking over her husband's school bus service in the Center School District and renting the land to a gas station to the west.
Katie Hopkins, the youngest of the family, remembers when her mother, Evelyn, decided to return to Martin City in 1955. "When we moved, we did not need to rent a truck—mom just moved us in the school bus! She made it an adventure," Katie recollected.
The white house on 135th St. turned out to be the perfect place for Hopkins family. Sue Hopkins Glidewell remembered, "Living in Martin City was great. We lived in a small town where everyone knew everyone. We got to have bicycles once we moved."
Evelyn added a forced air furnace to the house. Prior to that, there was one gas furnace in the kitchen and an oil heater in the living room. In the upstairs hallway, old gas light fixtures still decorated the walls.
Glidewell fondly remembers her mother's unique way of waking them up as children. "The ductwork in the kitchen was right next to the stove, and mom used it as our alarm clock. She would hit it with her hand! It certainly woke us up quickly!"
The Hopkins family in 1960: Standing are Sim and Roy. Sitting are Sue, Evelyn and Katie.
Prior to 1957, the house had a two-story barn and a chicken coop in the backyard. There were large elm trees nestled next to the home, offering shade in the heat of the summer (the house was never air conditioned). On May 20, 1957, the Ruskin Heights Tornado barreled through, leveling most of the town. The house was spared and no one was home. The chicken coop in the back was destroyed and the gas station rented to the west was leveled. Evelyn, always a fighter, made repairs. She remained there for just shy of five decades.
Evelyn was well-known in Martin City, an active member of the Martin City Methodist Church. She was an avid baker, always supplying treats for her children, welcomed visitors and the church. Evelyn had a green thumb; fruit trees, nut trees, and flower gardens lined the fences along the front, east and west of the quaint home. Perennials added pops of color that would bloom from early spring until the first frost. Oftentimes the flowers from Evelyn's garden would decorate the alter at church services.
Eveyln's son Roy would regularly assist his mother in her garden. He noted, "When I would dig holes for mom's plants and bushes, I used to find a lot of old pieces of iron." Knowing now the history of the home, this comes to no surprise. Jecker's blacksmith shop had left permanent pieces hidden below the soil.
Evelyn passed away in 2003, leaving a lifetime of memories for those residents that remember her busses parked in the back, beautiful flowers blooming all season and her incredible strength.
The house was purchased and remodeled by Scott Rutledge, owner of The Sharper Edge, a concrete landscaping company now located immediately to its west. He leased it out as a vintage boutique, known as Charm but soon to become Gilded Lily.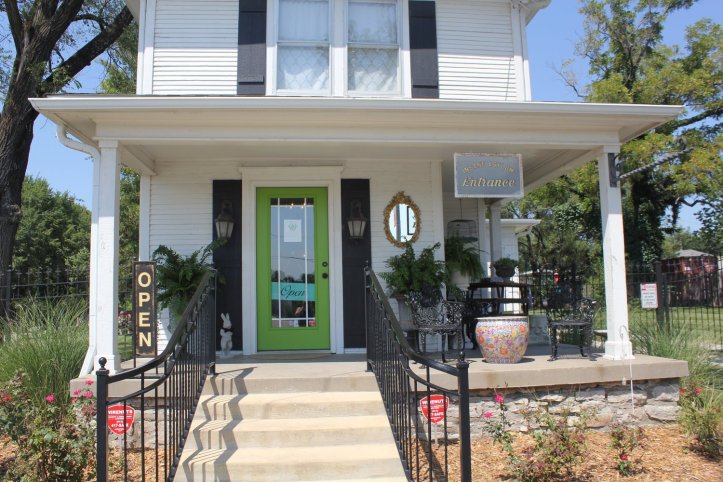 The pleasant, picturesque home has a past that extends over 114 years and is a reminder of the foundation of Martin City. Built by the hands of a blacksmith, transferred to a man who put his stamp on the walls and ceilings throughout the area, and then last occupied by a woman with gardens decorating the outside, this home has stories within its walls of a time long since gone by.
Gilded Lily.jpg
The house as it stands today. Courtesy Gilded Lily Boutique.
You can tour the home and meet some of the Hopkins family at the Grand Opening of Gilded Lily boutique September 14.
Categories: None